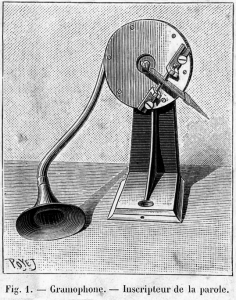 Anyone who has ever made a habit of writing music knows that song ideas almost never occur to you when you're looking for them. My solution to this has been to carry a recording device with me at all times. Whenever I have an idea, I slip off somewhere quiet and sing it into the recorder.
When I first got started, I used to use a microcassette tape recorder to capture my ideas (it wasn't all that 'micro' either). I have distinct memories of wandering the streets of Boston singing into this clunky box while trying not to make eye contact with strangers. Nowadays, smartphones are a much more convenient way to capture ideas. There are hundreds of apps for capturing voice memos; even the default iPhone Voice Memo app is a huge leap forward from the microcassette recorder days. Better still, free cloud-syncing storage services such as Dropbox or Evernote have revolutionized the way I work. Evernote is great because it allows you to record any number of song ideas right from its iPhone App and then sync them back to your desktop computer to continue work at home. With Dropbox, I use the Griffin iTalk or DropVox, both of which accomplish the same thing.
Here are some tips that I follow when making my song sketches:
Tip #1: Placeholder lyrics – If I don't have a recording device available when inspiration strikes, I attach placeholder lyrics to my melody as soon as possible (I jot them down on a scrap of paper or in my phone). Lyrics are a great way to remember a tune, although (of course) nothing beats a recording.
Tip #2: Don't be afraid to sound ridiculous – No one will hear my song sketches except me. If the melody is out of my vocal range, I keep it in whatever key occurs to me; I can always transpose it down to something I can sing comfortably later.
Tip #3: Record first without backing – Even if I'm near an instrument when inspiration strikes, I record sketches without any backing or chords first before attempting a version with the backing. The reason is this: attaching chords to a melody can actually substantially change an idea (listen to any of the Girl Talk records for intentional examples of this). Sometimes, it's useful to have a version of a melody before the chords were added.
In the next blog post, I'll be covering what to do with the ideas once you've gathered them.
–Dave